Taxi driver stabbed to death with sword
Sometime last year, Khalil Jabbour, a plumber and a contractor by day, picked up some extra work driving for Yellow-Checker Cab Co.
But he didn't tell his relatives about his second job, his sister-in-law told the Journal in an interview Friday, and they didn't find out until Presbyterian Hospital called early Friday morning to say Jabbour had been stabbed to death after picking up a passenger.
"We actually went to the hospital to make sure it was him," said Zeina Jabbour. "We're in total shock."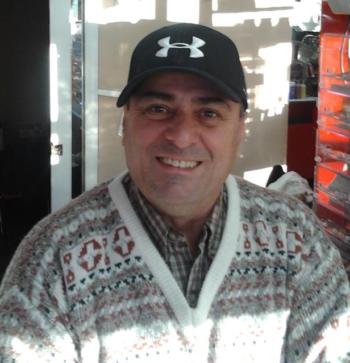 Zeina said 59-year-old Khalil, the brother of her husband Sami, lived near the University of New Mexico. She said he grew up in Beirut, Lebanon, and moved to Albuquerque in the mid 1990s.
"The only family he has here is his brother and us – myself and my kids," Zeina said. "The rest of the family is all in Canada."
Police have not publicly identified Khalil Jabbour as the victim, but Zeina said detectives spoke with her and her husband about the crime Friday afternoon.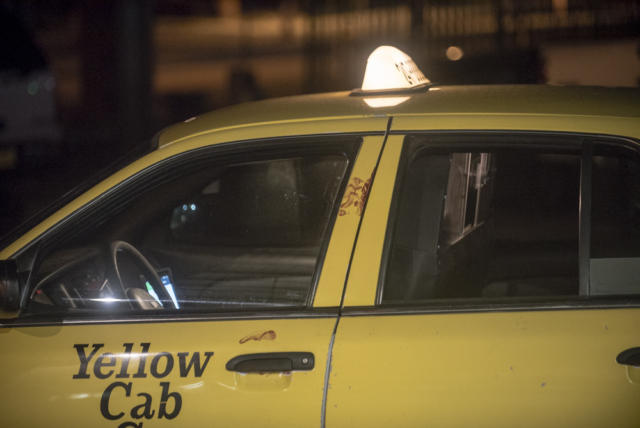 Shortly before 11:30 p.m. Thursday night, police said, a man called a cab, but he told them that after he was picked up he believed the driver was working for the "Illuminati." They say he stabbed the driver in the chest with a sword near University and Coal SE.
Detectives arrested Victor Ortiz, 46, who remained near the crime scene, and charged him with murder.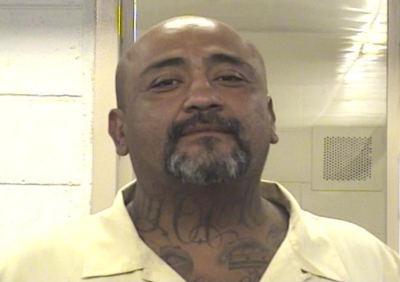 According to a criminal complaint filed in Metropolitan Court, Ortiz told detectives the "Illuminati" – a supposed secret global society of elite people that control the world's powers – had been breaking into his home near Interstate 25 and Gibson SE to steal his money and his drugs. He also said there is a struggle between good and evil, God and the devil.
Ortiz told police he believes he has been followed and tracked by members of the group for more than a year and when he called a cab Thursday night he was convinced the "Illuminati" had hired the driver.
So, Ortiz told police, he stole the cab driver's bag, believing it to be full of guns and knives and other tools, and got out of the cab.
When the driver got out in order to try to get his bag back, Ortiz pulled a sword from a sheath and stabbed him, according to the complaint.
A man who was walking home from a friend's house happened to see the whole thing. That man told police he put Khalil back in his cab and drove him to the nearby hospital, where he died.
Zeina said the family is thankful that the pedestrian was there and tried to save Khalil.
"He tried to save his life," she said. "He's not a family member. To have a total stranger do that is commendable."
The witness also was able to provide a description of the attacker that officers used in arresting Ortiz, according to the complaint.
Ortiz had been out of jail for only a week when the stabbing occurred. According to online court documents, he had been arrested and charged with aggravated fleeing from an officer after police spotted him driving below the speed limit on Gibson. Officers said his speech was slurred and he performed poorly on field sobriety tests so they suspected him of driving while intoxicated as well.
He was released on a $2,000 cash or surety bond.
Ortiz's criminal history included convictions for robbery, aggravated assault with a deadly weapon, and trafficking controlled substances from the late 1990s and early 2000s.
This is the second fatal stabbing of an Albuquerque taxi cab driver in the past six months.
In late February, police say 26-year-old Luke Waruszewski stabbed and killed Larry Mullins, 58, near Coors and Central after calling for a ride. No motive was given for that stabbing.
Police found Waruszewski and the cab a couple of hours later at the Dancing Eagle Travel Center, off Interstate 40 west of Laguna Pueblo, arrested him, and charged him with murder. The case is set for trial next April.
The manager of Yellow-Checker Cab Co., where both men worked, declined to comment about the crimes.
Zeina said she had not heard about Mullins' death until Khalil was killed. She said Khalil was a hard worker, "one of the nicest people I've ever known" and must have picked up the job as a cab driver to make a little extra money.
She said her husband has been in shock and struggling with mixed emotions all day as they learn more about the details of Khalil's death.
"That's very dangerous, especially at night in Albuquerque," Zeina said. "He would have definitely have advised him not do that as a side job. He feels very bad about that."
Follow us on our Facebook and Twitter pages for the latest stories, products & updates.
– Source: Elise Kaplan – abqjournal.com