Accra, Ghana – The Accra Regional Police Command has warned taxi drivers to reject services to outlandish areas, as car snatching crimes are on the rise in the metropolis.
According to a statement signed by the Head of Public Affairs, Superintendent Effia Tenge, the caution has become necessary because of increasing reports of suspects succeeding in the illegal act at different locations in Accra.
Noting the modes of the crime, she indicated that a member of the syndicate will hire the service of the commercial vehicle to a particular destination and during the journey, other accomplices board the vehicle and snatch the car at gun point.
She further cautioned drivers to beware of juicy offers especially at night and seek the assistance of the police at various check points on the least suspicions.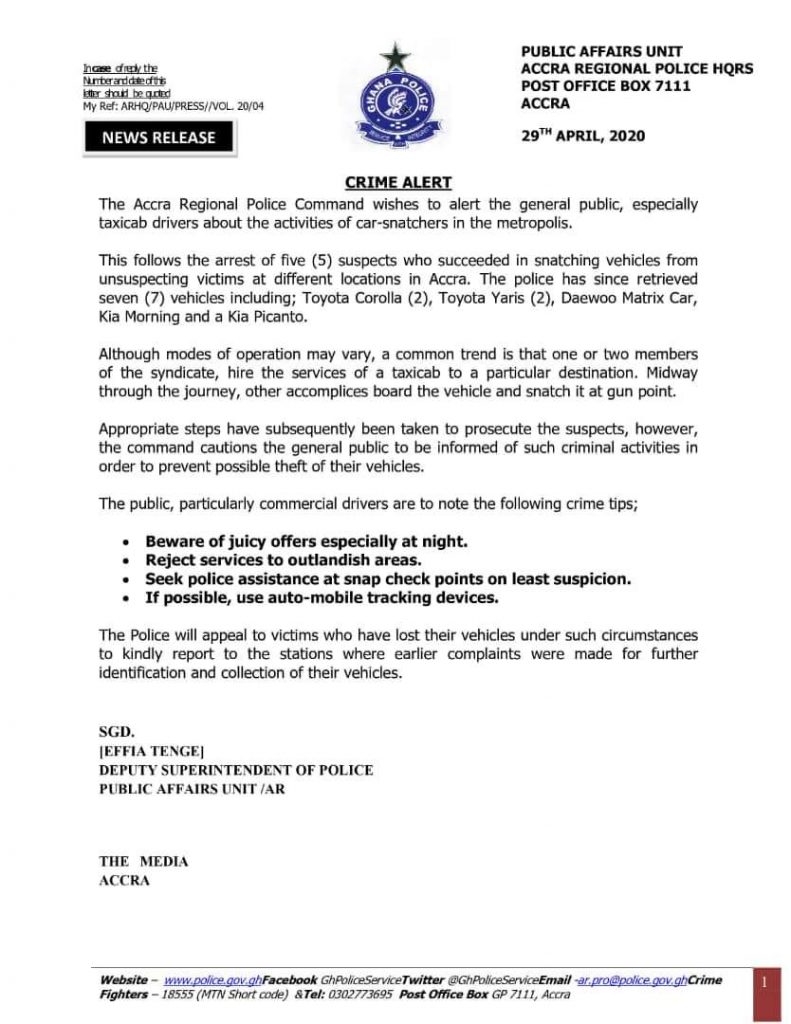 "If possible, use auto-mobile tracking devices," she added.
She highlighted that the police have, however, succeeded in retrieving seven missing cars and have arrested five suspects who have been involved in similar crimes.
"The police have since retrieved seven vehicles including, two Toyato Corolla, two Yaris, Daewoo Maxtrix, Kia Morning and Kia Picanto.
"The Police appeal to victims who have lost their vehicles under such circumstances, to kindly report to the station where earlier complaints were made, for further identification and collection of their vehicles."
Follow us on our Facebook and Twitter pages for the latest stories, products & updates.
– Source: Ama Cromwell – myjoyonline.com