Dubai, UAE – The Dubai Taxi Corporation (DTC), a subsidiary of the Dubai Roads and Transport Authority (RTA), has launched a self-sanitizing booth for taxi drivers at their company's ;ocation in Muhaisnah.
The step is part of DTC's measures to protect its drivers against COVID-19 and enhance the safety of taxi passengers and drivers.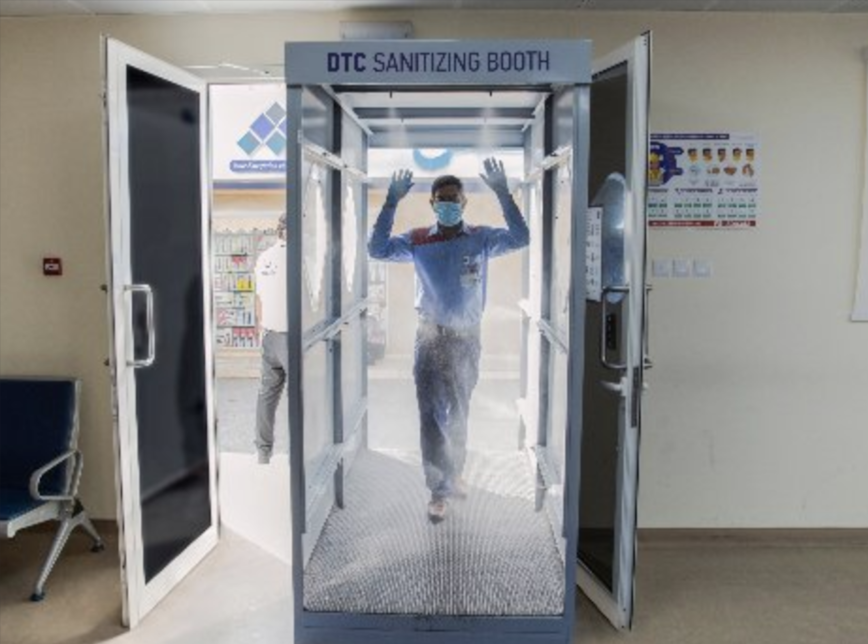 Commenting on the initiative, the director of assets at DTC, Nasir Al-Haj, said: "The launch of the self-sanitizing booth is in line with the government's drive to protect the safety of the community, as well as individuals who could be exposed while performing field duties. Since taxi drivers are in frequent contact with riders, we considered taking an extra measure to protect them against the virus."
The self-sanitizing booth provides a 360-degree spray of sanitizing materials around the body. It also involves disinfecting the uniforms and shoes of drivers at the end of their daily shifts.
DTC has launched a self-sanitizing booth for taxi drivers in their residence at Muhaisnah. The step is part of DTC's efforts to step up measures of protecting drivers against the COVID-19 by the end of their daily jobs,
In addition, DTC has introduced other preventive measures such as a touchless system for registering the entry/exit of drivers through face-recognition cameras and subjecting drivers to frequent body temperature checks.
Drivers are obliged to wear gloves and masks throughout their service hours and disinfect their vehicles after each use. Plastic barriers have been installed inside the taxis to isolate drivers from passengers onboard.
"These measures contribute to a safer working environment for taxi drivers and also boost the confidence of passengers, and make them feel comfortable while using our service." Al-Haj concluded.
Follow us on our Facebook and Twitter pages for the latest stories, products & updates.
– Source: Anup Oommen – constructionweekonline.com