Drivers seem to be embracing the cashless payment methods, but leading player Octopus is still nowhere to be seen.
With Hong Kong cashless payment operator Octopus still struggling to woo the city's 40,000 taxi drivers, two mainland e-payment players, Alipay and WeChat Pay HK, are already leading the race with aggressive marketing to vie for a slice of the taxi pie.
The e-payment market for Hong Kong's taxi industry, involving 18,163 cabs, is heating up as drivers have started to embrace alternative payment methods to offer more choices for customers, breaking the decades-old stronghold of cash-only services.
Taxi operators have envisaged that the Hong Kong taxi market will eventually be carved up between two mainland leading players Alipay and WeChat Pay HK as they are, so far, free of charge with many incentives, while local operator Octopus has still failed to win the hearts of cabbies as it charges administrative fees.
So far over 1,000 taxis have signed up for WeChat Pay HK while over 1,500 taxis have chosen Alipay.
"In Hong Kong taxi drivers often don't have change for big banknotes or sometimes customers forget to bring enough cash," an Alipay spokeswoman said. "We can see that a lot of mainland tourists coming to the city under the solo travel scheme have a great demand for easy transportation and convenient payment methods. That is why we want to break into the Hong Kong taxi market," she said.
The spokeswoman added that Alipay hopes that more drivers will now sign up to their service.
"We welcome convenient payment methods which are beneficial to the taxi industry. As far as I know, WeChat Pay hopes to secure half of the taxi market after three to six months while Alipay aims to win the support of 1,000 taxis in the short-run by targeting those which usually station at the airport and the cross-border checkpoints," said Chan Man-keung, chairman of the Association of Taxi Industry Development.
"As to Octopus, its previous trial runs fell through because it demanded an administrative fee of 1 per cent of Octopus payments. This time we asked Octopus to consider using taxi advertising to cover its administrative fees. We are still waiting for its feedback," he added.
Local cabbies, who have long been reluctant to accept anything but cash, have been criticised for lagging behind technological advancements and failing to provide other electronic payment methods for customers.
Similar to the technology adopted by its rivals Alipay and WeChat Pay HK, Octopus launched a QR code service late last month aimed at small merchants and the city's cabbies.
They've conquered shops and cafes; now WeChat Pay and Alipay are taking the fight to China's trains
The QR code payment method, which only requires a smartphone to scan the driver's code to pay taxi fares, eliminates the need for drivers to install any terminal or hardware in their vehicles.
The city's mobile payment market was opened up last year when the Hong Kong Monetary Authority began issuing licences to operate such services, with big players across the border on the mainland, including WeChat Pay and Alipay, keen to get a slice of the pie. Alipay is a unit of Ant Financial Services Group, an affiliate of Alibaba Group, which owns the South China Morning Post.
Norman Tam, general manager of Tencent's International Business Group, told the Post that they expect over 1,000 taxis would accept WeChat Pay HK by end of this year.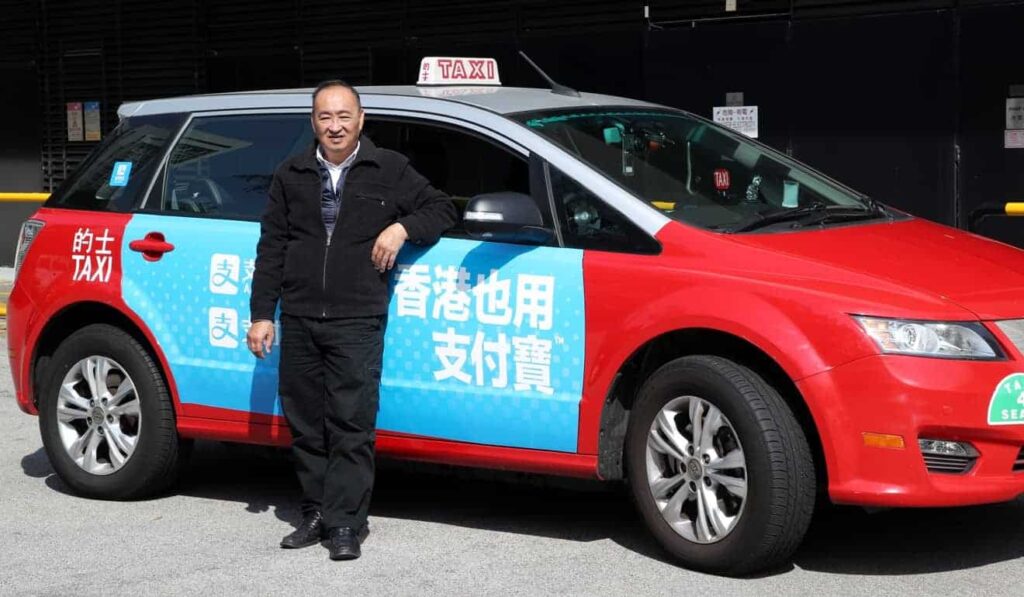 [Many drivers in the city have expressed interest in using services like Alipay or WeChat Pay. Photo: Edward Wong]
"Hong Kong consumers are known for their efficiency, and counting coins can be a hassle … We are currently in discussion with a range of merchant partners in Hong Kong including transportation [providers]. With the strong and growing user base of WeChat and the simple and easy set-up procedure of WeChat Pay HK, we are confident that WeChat Pay HK will become prevalent in Hong Kong," he said.
Chan, who uses WeChat Pay for his fleet of more than 200 taxis, added the three e-payment players were equally competitive as both WeChat Pay and Alipay offered a lot of incentives to taxi drivers while Octopus enjoyed a high level of confidence from Hongkongers with its reliable service.
Contactless competition: WeChat Pay is coming to Hong Kong's MTR, and Alipay may not be far behind
"WeChat Pay has posted ads on some taxis as an incentive to lure them to use its e-payment while Alipay offers to introduce mainland tourists to those taxis registered with its payment.
"As to Octopus, most Hongkongers have greater confidence in its payment system than other mainland systems. Actually taxi drivers are happy to use Octopus, but it hinges on whether it will have some compromise over its administrative fees," he said.
Wong Wing-chung, chairman of NW Area Taxi Drivers & Operators Association, who is now running a marketing firm, G Pay Ltd, to line up business for taxis using Alipay, said he signed up for Alipay because it promised to promote his fleet alliance via its various mainland networks.
"In other words, Alipay will introduce us to a lot of mainland tourists. We are now eyeing the mainland market and Alipay can help us expand our mainland customer base," he said, adding that he received a lot of bookings from mainland tourists after using Alipay at the end of October.