Lagos, Nigeria – Last week, the ride-hailing sector in Lagos got a bit of a shake-up when another ride-hailing company was launched. Its goal? To bring in Lagos yellow taxis.
According to a report by The Cable, the new ride-hailing company, UNIVASA, will be partnering with the Lagos State Taxi Drivers and Cab Operators Association (LSTDCOA) — drivers of the Lagos yellow taxi. They launched with the slogan "Baba dey online".
The company claims that its ride-hailing app has similar features to Uber and Bolt but with the added feature tagged 'Baba dey online', which will allow users to request the services of yellow taxi operators online.
Interesting as this sounds, we heard something like this some months ago.
On March 10, 2020, Ekocab launched its ride-hailing platform that seeks to onboard traditional yellow taxi operators in the city of Lagos.
The launch, which came amidst regulatory tussles between the Lagos State Government and other ride-hailing companies like Uber and Bolt, witnessed backlash from the public.
Lagos has since gone on to enforce somewhat controversial regulations for ride-hailing companies operating in the state.
But UNIVASA's launch raised some questions. What type of company is UNIVASA? What happened to the existing partnership between the yellow taxi drivers and Ekocab?
What we've found so far
UNIVASA Nigeria Limited is an ICT company that builds software solutions. Beyond its app, and the four employees listed on LinkedIn, there's not much public information about the company.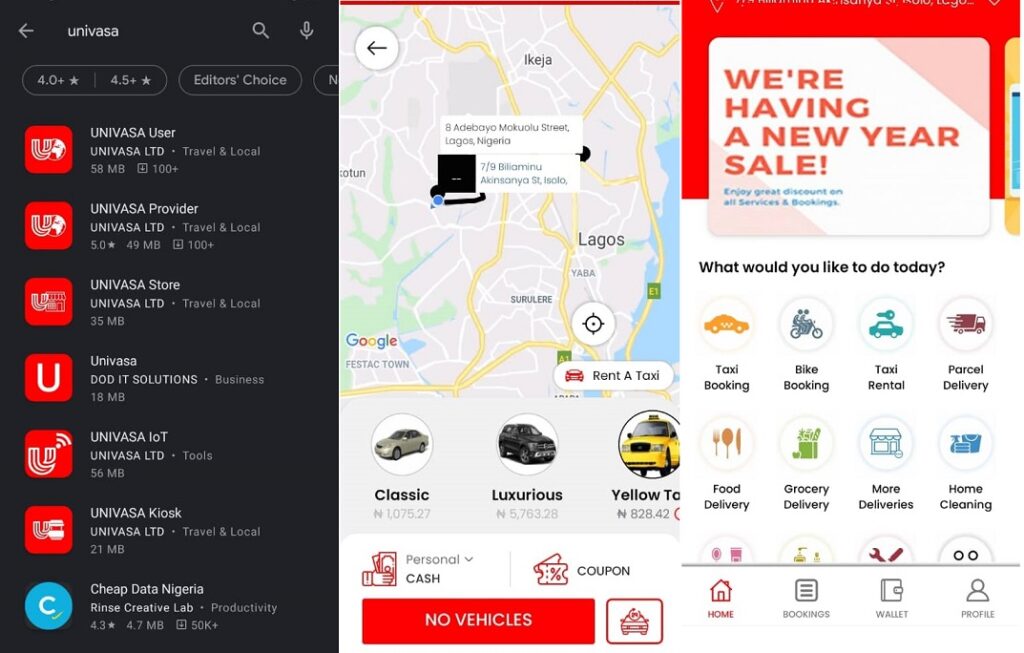 The UNIVASA app, however, boasts features like taxi-hailing, flight booking, groceries and food deliveries, and other on-demand services like massage, make-up, plumbing, and car repairs, among others. It also features a series of apps for service providers.
Attempts to book a taxi service — between the classic vehicle, luxury vehicle, and the yellow taxis — were futile as none of these vehicles was available.
For now, it is not clear how operational these services are, but the partnership with the Lagos yellow taxis seems like a springboard to gain widespread popularity.
However, Segun Cole, Ekocab CEO, insists that the partnership with the Lagos yellow taxis is still in place despite the reports of UNIVASA's partnership. According to him, UNIVASA's partnership is based on the adoption of the method employed by drivers who switch between Uber and Bolt; if it works for them, then the same should apply to yellow taxis.
"I'm not sure they are aware we have a non-compete clause with the Lagos yellow taxis. Before we came, several other companies tried to engage these guys (yellow taxi drivers), so we included a non-compete to forestall such an occurrence," he says.
Despite this assertion, we found it strange that the yellow taxi association still partnered with another ride-hailing company. Explaining this, Cole says that UNIVASA's deal is to onboard the 'old babas' (elderly drivers), something he claims was never part of Ekocab's original plan.
"Most of their cabs do not meet Ekocab's requirements and new regulations like car model, convenience, air conditioning, smartphones, data collection, and updated documentation."
A look at the UNIVASA app shows that it costs much less to use the yellow taxis than the classic or luxury vehicle feature.
Cole insists that ride-hailing goes beyond the use of smartphones and applications, and not everyone needs to do that.
"The plan we had for the Babas was different and could be a low hanging fruit for several of them," he claims.
Entering the waters of vehicle financing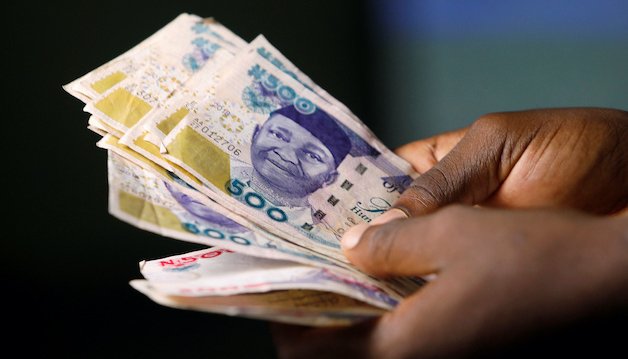 Cole explains that since Ekocab's launch and the ensuing backlash, it has become essential to reiterate the fact that the company will use quality vehicles and provide the requisite training for drivers as well as a vehicle financing scheme.
"With our Drive to Own Scheme, we would be providing 1000 fully air-conditioned Tokunbo (fairly used) vehicles that meet the standard requirements. Also, we would be providing documentation financing so drivers can purchase needed vehicle licences and documents."
Cole claims that the company will be deploying both fairly used and brand new cars, which drivers can choose from depending on their repayment abilities. Besides, he says there are also maintenance partnerships which will cater to any major issue that might arise in the vehicle.
"The vehicles come with a tracking device, and once they default on repayment, it notifies them three consecutive times. If they still default, the tracking device shuts the vehicle down; it doesn't start until payment is made," he adds.
It is important to note that such a scheme has been tried by the likes of Uber with little success. But the likes of MAX have come into the vehicle financing space with renewed vigour and strategic partnerships.
Vehicle financing is part of a larger problem in Nigeria when it comes to access to credit.
Cole states that the company's strategy will be to get more affordable cars that the drivers can easily make payment for between 24 and 36 months.
While it remains to be seen how Ekocab will win public trust after the backlash of March 2020, several other developments will surely come up in Nigeria's transport sector.
Follow us on our Facebook and Twitter pages for the latest stories, products & updates.