Police and the council are warning of disruption and safety issues in the city centre as taxi drivers stage a 'go slow' protest.
It will be from 10pm tomorrow, which is known as Mad Friday when revellers celebrate the start of the Christmas weekend, until 5am on Saturday.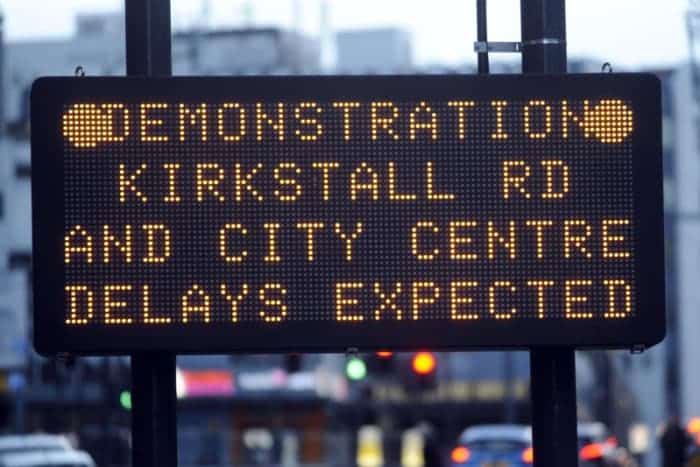 It is the second such protest brought about by the Leeds Private Hire Drivers Organisation (LPHDO) over the use of bus lanes/stops by Private Hire Vehicles, tickets being issued for waiting/picking up/dropping off in bus stops, the signage on private hire vehicles and also about attacks on drivers in certain areas of the city.
A Leeds City Council spokeswoman said the authority was so concerned by the action it was in talks with the police, who in turn say they have had tried but failed to communicate with (LPHDO).
They said: "We are aware of the planned 'go slow' by private hire drivers on Friday night into Saturday morning. We are disappointed that the Leeds Private Hire Drivers Organisation have decided to go ahead with this disruptive action, despite very generous concessions by the council to their objectives as well as ongoing talks between ourselves and their representatives.
"The organisation has met with senior councillors and officers on several occasions over the past two months and we feel that discussions to date have been productive and conciliatory. The organisation has decided at very short notice to undertake the protest to coincide with a very busy time particularly in the city-centre.
"We have very real concerns about the impact on public safety the proposed protest may have in terms of large numbers of city-centre users being able to get in and out of the city centre without delay safely. We are in discussions with the police regarding this matter."
Chief Insp Nick Ireland, from Safer Leeds, added: "We have received information about a proposed 'go slow' protest by private hire drivers in Leeds and are working with the council to put appropriate plans in place to minimise any disruption to the public.
"While the police will always facilitate peaceful protest and lawful demonstrations when provided with sufficient notice, we are having to respond spontaneously to this proposed event due the level of notice given. We have made efforts to liaise with and work with the organisers, but despite our efforts there has been no communication from them which limits our ability to plan around this event."
Follow us on our Facebook and Twitter pages for the latest stories, products & updates.