New York City, NY – Before the coronavirus arrived in New York, yellow taxis were an enduring symbol of the city's hustle, crowding the streets of Midtown Manhattan, ferrying passengers to airports and carrying tourists to boutique hotels. But eight months into the pandemic, the industry lies almost entirely crippled.
Revenue for the taxi industry is down 81 percent over the same period a year ago, according to the latest city data. That is better than in the worst days of the pandemic in March and April — but not by much.
Even as some parts of city life have returned, reliable sources of taxi passengers have not. Offices, especially in Midtown, are closed. Tourism is virtually nonexistent, and the airports are mostly empty.
"I can't hold on, not like this," said Vinod Malhotra, who owns his cab and has driven for 27 years through terrorist attacks, natural disasters and economic calamities. He made it through the pandemic's peak in New York, too, but as the crisis slogs on, he is on the brink of bankruptcy. "I can make it maybe one more month, maybe two."
Ride-hailing companies, such as Uber and Lyft, also took a hit when the city largely shut down in the spring. But they have bounced back more quickly. Revenue is now about a third lower than last year, and the chief executive of Uber, Dara Khosrowshahi, said last week on a call with investors that city ridership outside of commuting hours had returned to normal.
Bruce Schaller, a former city transportation official, said customers might be using taxis less because they believed they were more of a health risk, even though that was not the case.
"I think taxis feel like more of a public space than an Uber car or Lyft car," he said.
Almost all drivers in every sector stopped working altogether during the peak, city data shows, in part because of the possibility of getting sick on the job, a threat that was magnified by the deaths of dozens of drivers. In a recent survey by the New York Taxi Workers Alliance, nearly half of drivers said either they or someone in their home had contracted the virus.
While many drivers were out of work, they relied on the federal government's enhanced unemployment program, which paid $600 a week in addition to state benefits.
But those federal benefits ended over the summer, as did some other programs that kept cabdrivers afloat, including initiatives that paid taxi drivers to deliver meals to homes and provide rides for essential workers during overnight subway closures.
Aloysee Heredia Jarmoszuk, the head of the city Taxi and Limousine Commission, which oversees yellow cabs and ride-hailing companies, said the industry was steadily recovering, albeit slowly. "The pandemic hit for-hire transportation hard, but every month since March has seen increases in trips across all segments," she said.
Still, drivers of both yellow cabs and the green cabs that operate outside of Manhattan have been reluctant to return to work. In September, an average of 3,257 yellow cabs and 575 green cabs operated each day, according to city data. In both cases, that was about 70 percent lower than in September 2019.
Several fleet owners said they had called drivers to beg them to return. Some offered discounts letting drivers rent out cabs for half the normal rate, or less. Recently, they said, drivers have begun returning.
Drivers who own their own cabs have returned even more slowly.
"My job isn't safe. I don't know who has had the COVID, and there are no customers anyway," said Andrew Chen, 53, an immigrant from Burma, now Myanmar, who has owned his own cab since 2006. "So I just stay home."
Now, a knockout punch may be coming for those drivers, who bought the city permits called medallions that allow them to own and operate a cab.
As The New York Times has reported, hundreds of drivers were already squeezed before the pandemic after being channeled into large, exploitative loans they could not afford in order to buy their medallion. Lenders suspended collections for months during the worst of the virus, but some have started to demand payments.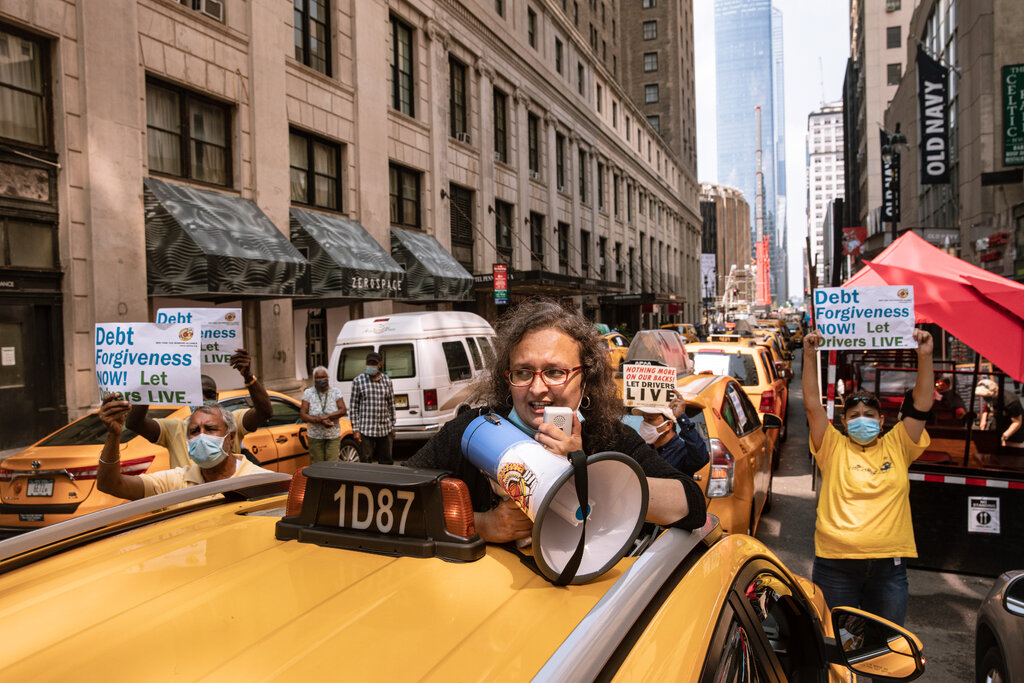 "People talk about the state of the taxi industry the same way they talk about the election: 'This is the existential moment.' But this time, it really is," said Bhairavi Desai, who has represented drivers since the 1990s as the head of the Taxi Workers Alliance. "It really is."
In January, a city task force proposed a $500 million bailout for drivers in loans. In February, the New York State Attorney General, Letitia A. James, said her office would sue the city for $810 million and use the money to compensate drivers.
That momentum evaporated as the virus exploded across the city.
On Thursday, Ms. Desai plans to unveil a proposal that could eliminate hundreds of millions of dollars owed by medallion owners and would cost the city a maximum of $75 million, much less than in previous plans.
Under the proposal, lenders would agree to reduce the amount owed by each borrower to $125,000, repaid over 20 years with a 4 percent interest rate. That structure would lower monthly payments to under $800. In return, lenders would receive a guarantee that the city would pay for any medallion loan that fails because of nonpayment, an assurance that experts say could win over lenders.
The plan is supported by Scott M. Stringer, the city comptroller and mayoral candidate. He said in a statement it could actually save taxpayer money by protecting the city from the attorney general's lawsuit.
"This breakthrough proposal offers a responsible and necessary approach to relieve crushing debt for drivers and reduce ballooning costs for taxpayers," he said.
City Council Speaker Corey Johnson, who has previously supported a bailout, said the Council would review the proposal but suggested that the city, whose budget has been decimated by the pandemic, may not be able to pay for a rescue package on its own. A spokesman for Mayor Bill de Blasio pointed out that the mayor has said the federal government should fund any bailout.
Several lenders who would have to agree to the deal declined to comment. They have denied wrongdoing, blaming the industry's problems on Uber and Lyft.
The largest holder of loans now is Marblegate Asset Management, a private equity firm that bought thousands of them earlier this year. It has not collected payments during the pandemic, a spokesman said, and has voluntarily forgiven $70 million in debt.
Mr. Malhotra, the cabdriver, emigrated to New York from India in the early 1990s and bought his medallion in 2011 for $640,000. He now owes Marblegate about $435,000, he said.
He still drives 12 hours a day, six days a week, he said, but lately has had to wait longer and longer between customers. He is barely making enough to support his wife and three children, and he cannot make loan payments. He fears getting a call from his lender.
He said he might have to file for bankruptcy and surrender his medallion to a large fleet. Others are in the same situation. If nothing happens soon, he said, the city could lose an entire generation of cabby owner-drivers.
"We need help, and nobody is helping," he said. "So day by day, it will go more down. And then it will just be gone."
Follow us on our Facebook and Twitter pages for the latest stories, products & updates.