Kelowna, Canada – Kelowna RCMP tell Castanet that counterfeit American money is a constant issue in the Okanagan.
"It's easy to print something that looks like their money, and most Canadians aren't familiar enough with the legal tender and it's security features to know what's real and what isn't," RCMP say in an emailed statement to Castanet.
Local merchants are encouraged to examine and verify any currency that is given to them, and report any suspicious bills to local RCMP.
For more information on detecting counterfeit bills and what to do if you receive one, visit the Bank of Canada's webpage about counterfeit prevention.
If you have been given American money in the past few days, you may want to double-check to make sure its is real.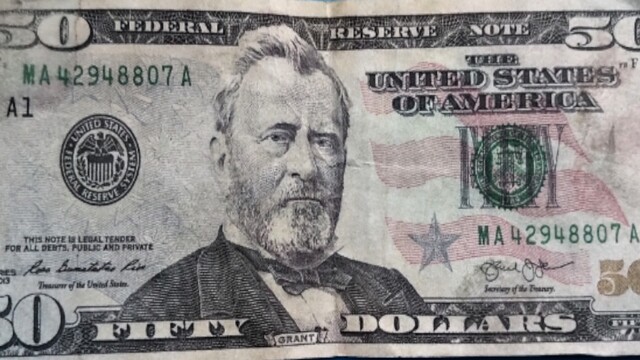 Roy Paulson, media relations with Kelowna Cabs, tells Castanet they've seen three counterfeit U.S. $50 bills in the last couple of days.
Paulson says he picked up a fare at a gas station on Richter Ave. and dropped him on Clement Ave. near the RCMP detachment.
"It was maybe an $8 fare and he asked if I would take a U.S. 50-dollar bill." Paulson says he agreed to take the bill at par, "it was still dark and I held it up to the cab light and it appeared to have all the right security features that it is supposed to."
Paulson went on with his day, but when he took the U.S. currency to the bank to get it exchanged, it turned out to be a fake.
"They did three different tests on it and it turned out it was fake."
Paulson says he spoke with other Kelowna Cabs drivers and found out that there had been at least three other instances in the last couple of days where a fare used a counterfeit U.S. $50 bill.
Paulson indicates he has surveillance video from his taxi that shows what the person looks like, except it's impossible to identify the man because he was wearing a mask. The incident has been reported to Kelowna RCMP and Paulson wants to warn other businesses and individuals if you see a U.S $50 bill, "you should probably give it a very close look."
Follow us on our Facebook and Twitter pages for the latest stories, products & updates.