The coronavirus pandemic is forcing Chicago-area companies and workers to face harsh realities about their paychecks and their place in the local economy. The Tribune is reaching out to hear, and share, their stories.
Along Western Avenue in Chicago's West Ridge neighborhood, three parking lots are packed bumper to bumper with nearly 400 bright green taxis.
The cabs belong to Taxi Town, but drivers aren't leasing them right now. Taxi Town's offices are dark, and leaves on a potted plant inside the door have started to turn yellow.
Taxi Town owner Adrian Tudor said drivers are at home because the coronavirus pandemic has cut into the need for cabs.
"Everything is on hold. There's no business," said Tudor, 53. "The drivers tried at the beginning when the shutdown was announced, but then they realized there's no money out there."
Tudor said he has applied for a small-business loan through a coronavirus government relief program to cover salaries and other expenses. Besides leasing cabs to drivers, he also employs more than 30 mechanics and office workers.
Cab owners charge drivers to lease vehicles, and the drivers pay for gas and keep the fares. Taxi Town charges about $400 a week for a lease, which also covers vehicle repairs.
"I'd love to get them back to work yesterday, but there's no work for them to do," said Tudor, who said his business had already been hit hard in recent years by the rise in ride-sharing companies like Uber and Lyft.
Taxis are packed into a parking lot at Taxi Town on April 14, 2020, in Chicago's West Ridge neighborhood.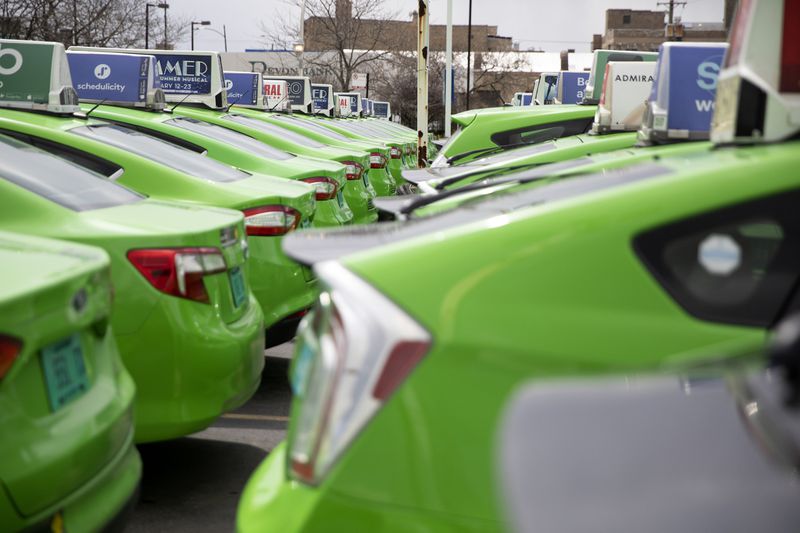 Tudor described the competition from ride-share as a permanent business threat, while the coronavirus pandemic is a temporary one. But even a temporary problem can cause a "horrible situation," Tudor said.
"We never expected we'd be going through this," said Tudor, whose wife, Florina, also works for Taxi Town, handling bill payments.
Tudor has been in the cab business for 30 years, starting with driving a cab part-time while he was in college. After graduation, he got into taxi management.
He started Taxi Town in 2010. He has about 370 cabs he leases to drivers, along with a few "affiliates" who own their own cabs.
Tudor said he is getting his office calls forwarded to his cellphone, and periodically hears from drivers who ask if things are getting better.
"They say, 'I need to pay my bills.' I tell them ' I can give you a car.' They call us thinking we have a magic wand and the magic answer. We know what everybody else knows," Tudor said.
Tudor is trying to stay optimistic.
"Every time you wake up and you're above the ground, it's like it's your birthday," Tudor said.
Follow us on our Facebook and Twitter pages for the latest stories, products & updates.
– Source: Mary Wisniewski – chicagotribune.com